YO !! Ketemu lagi lagi dengan saya vanquish, mumpung lgi males dan kgk ada kerjaan jadi saya iseng" bikin deck dark signer tpi gk pure karena harus menyesuaikan speed meta sekarang. Dan kyknya random abis
Synchro monster milik dark signer yg saya pke yaitu :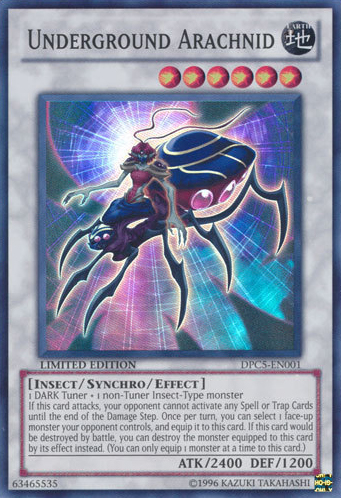 Underground Arachnid wrote:

If this card attacks, your opponent cannot activate any Spell or Trap Cards until the end of the Damage Step. Once per turn, you can select 1 face-up monster your opponent controls, and equip it to this card. If this card would be destroyed by battle, you can destroy the monster equipped to this card by its effect instead. (You can only equip 1 monster at a time to this card.)
Hal yg pling keren dari monster dark signer 1 ini yaitu culik monster lawan dan dijadiin tameng waktu gebuk"an
 dan ketika nyerang lawan kgk bisa aktifin s/t
Tanpa basa basi langsung ja dah cek it dot :
Monster :
Labradorite Dragon x2
The Dark Creator x2
Dark Armed Dragon
Dark Grepher x3
Armageddon Knight x3
Dragorado x3
Kagetokage x3
Summoner Monk x2
Level Eater x2
Spell
Allure of Darkness
Reinforcement of the Army
Dragon Shrine
Silent Doom x3
Dark Hole
Foolish Burial
Swing of Memories x3
Pot of Duplicity x2
Mystical Space Typhoon x3
Silver's Cry x3
#extra
Star Eater
Trident Dragion
Jeweled Red Dragon Archfiend
Scrap Dragon
Stardust Dragon
Black Rose Dragon
HTS Psyhemuth
Underground Arachnid x3
Beast God Vulcan
Ally of Justice Catastor
Lavalval Chain
Daigusto Emeral x2
Playstyle :
Buang secepat2nya Labradorite dragon dan level eater ke grave.
SS labradorite dan mkan lvelnya pke lvl eater. Free Lv 6 Synchro
Key Card :
- Labradorite + lv eater (jelas)
- Dark grepher, Armagedon knight, foolish burial, dragon shrine, lavalval chain (kicker)
- Dragorado, swing of the memories, silver cry, silent doom, daigusto emerald (reviver)
- DAD, Dark creator (opsi lain)
Combo :
- hand : Dragorado , Kagetokage . grave : labrador , lv eater
ns dragorado, eff ss labrador > ss kagetokage ketika dragorado ns sukses> aktifkan lv eater jadiin labrador lv 5 dan ss dari grave > synchro jadi underground arachnid > xyz dragorado dan kagetokage jadi daigusto> eff daigusto ss labradorite jadikan arachnid ke2. total : 2 underground arachnid siap culik monster + daigusto emerald = 6600 (klo direct)
apabila tidak ada dragorado dan kagetokage bisa diganti silvercry, silent doom ato swing of the memories
- hand : Dragorado , Kagetokage , any spell . grave : labrador
set spell > ns dragorado, eff ss labrador > ss kagetokage ketika dragorado ns sukses> synchro dragorado dan labrador jadi trident dragon> eff trident aktif ketika terSS, hancurkan kagetokage dan spell. 3000 X 3 = 9000
Kelemahan :
- Trapless jadi kita tanpa perlindungan yg memadai
- xyz anti lv 5 keatas (males nyebut)
- DD (klo masih ada,soalnya jarang ketemu)
Kelebihan :
- Spam lv 6 synchro
- random. bisa daur ulang via pot duplicity
Udah gitu aja . Selamat berkreasi kawan. ingat kata yusei " tidak ada kartu yang tidak berguna"